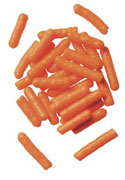 Use Jimmies to decorate your cakes, cupcakes, cookies, other baked goods and ice cream.
Shelf Life: 24 months in a cool dry area
Note: This product is prepared and packaged using machines that may come in contact with Wheat/Gluten, Eggs, Dairy or Dairy Products, Soy, and Tree Nuts.
Store in a cool, dry area.
Made in USA.