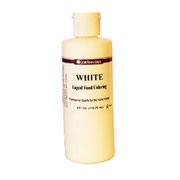 Extra strength liquid food coloring. Easy-to-use squeeze bottles allow you to add color a drop at a time.  

Our professional-strength liquid food colorings are available in a rainbow of hues and are formulated to be used by the professional as well as in the home kitchen.  Add just a few drops for a light tint, add several drops for a bolder hue.  Get inventive and combine one or more colors to create a customized shade.

Tip:  Adding a few drops of white food coloring to your hard candy syrup will give finished lollipops and candies an opaque-look.  Use alone, or in combination with other colors.